© naturepl.com / Andy Rouse / WWF-Canon
Global Tiger Day
Fundraise for WWF in honor of Global Tiger Day
Tiger numbers are at an all-time low, with as few as 3,200 tigers existing in the wild today. These big cats may be one of the most revered animals, but they are also vulnerable to extinction.
In honor of Global Tiger Day on July 29, we're inviting you to create a tiger-themed Panda Nation fundraising page. Donations that you collect will support WWF's global conservation work, which includes our efforts to double the number of wild tigers by the year 2022.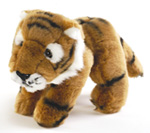 Your fundraising efforts are an important part of our global conservation efforts, from working to stop wildlife crime to reducing deforestation. To thank you for your efforts, we'll send you a WWF tiger plush if you create a new fundraising page and raise at least $150 by 11:59PM EST on July 31, 2014.
Donate to a Fundraiser or a Campaign
Enter the name (or the first few letters) of the Panda Nation campaign or the person who created it: