eBay Helps WWF Protect the Future of Nature
Are you looking for another way to help WWF in its conservation efforts? Sellers on eBay can now choose WWF to receive a percentage of the final sale of their items! eBay Giving Works--powered by MissionFish--is the dedicated program for charity listings on eBay where people can buy items to support nonprofit organizations. The program has raised over $47 million for more than 10,000 nonprofits since its inception in 2000. Visit WWF on MissionFish, and start your spring cleaning while doing something good for the Earth!

---

WWF Credit Cards
Chase offers WWF Visa cards in three endangered species designs and contributes $50 to WWF for each new WWF account. Every time you use your WWF credit card to make a purchase, WWF also receives 1 percent of the sale. Since 1995, WWF has received more than $10 million from Chase's animal credit cards, helping to fund our mission of saving life on Earth.

---

Coinstar® is helping WWF "make change" this Earth Day! From now until midnight Sunday, donate your spare change to WWF's Time for Change campaign at any Coinstar machine. We'll send you a free organic cotton T-shirt, featuring the beloved panda logo when you donate at least $50 and send us your receipt by June 30, 2007. Coinstar's coin-counting machines can be found in nearly every neighborhood across the United States. Find your local machine here!
---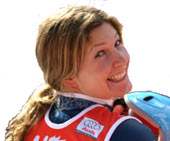 Gold Medal Skier Helps WWF Raise Funds
Olympic champion and three-time Alpine World Championships medalist Julia Mancuso auctioned two helmets and some of her ski race bibs to help combat global warming. This successful auction attracted bids from all over the US, Europe and Canada and raised over $1000. Julia is looking forward to her growing role as an ambassador on behalf of WWF, conveying the global impacts of climate change.



CONSERVATION RESULTS




Fiona McCarroll and Solon Robinson Elementary student Earth Day volunteers in Crown Point, IN. © Fiona McCarroll

Americans Pledge to Make a Difference for Earth Day
From organizing Earth Day-themed karaoke fundraisers to participating in trash cleanups in local communities, Americans have pledged to take action to conserve Mother Earth for Earth Day 2007. More than 2,000 people have made pledges for change on WWF's Time for Change website. WWF is challenging Americans to make a change in their lives to stop global warming, conserve our natural resources and protect the diversity of life on earth. In the 50 days leading up to Earth Day, WWF has encouraged Americans to make a commitment to conservation and share that commitment with the rest of the world. "The people have spoken. They're concerned about the fate of the planet, and they want to do something about it," said Terry Macko, WWF's vice president of membership and partner marketing. "We have received an incredible number of responses and are thrilled that we're able to be an outlet for these personal commitments to affect change." Share what you are doing to make a difference for Earth Day. Post your commitment on the Time for Change website along with photos, stories or other items you'd like to share.





© Genevieve Johnson/Ocean Alliance

Endangered Fish Return Home after Run-In with Poachers
More than 1,000 endangered humphead wrasse have been returned home after being rescued from poachers in the Philippines this past December. The poachers were apprehended inside Tubbataha Reef Natural Park--a national marine protected area--carrying the wrasse and 400 other fish. Before the fish were released back into the park, they were housed and cared for by WWF and the Tubbataha Park Management Office. The demand for humphead wrasse has grown steadily in recent years, particularly in East Asia where the fish's large lips are considered a delicacy. Poaching of these and other fish has become a serious concern in the Coral Triangle region. In the Philippines, 90 percent of fish stocks have been depleted. This creates a precarious situation not only for the survival of the fish, but also for local communities where half of the population depends on seafood as their primary source of protein and their very livelihood.


TAKE ACTION

Add Your Photo to the Tiger Mosaic
Once widespread across Asia, fewer than 5,000 wild tigers are now found in just 7 percent of their historic range. This week, WWF and 30 other tiger conservation groups launched a worldwide campaign to collect tiger supporters' pictures online to create the world's largest photo mosaic of this endangered species. The mosaic will be unveiled in June to world leaders who will gather to discuss trade in endangered species. "This is a fun, interactive web tool with a serious goal," said Judy Mills, director of the Campaign Against Tiger Trafficking. "The aim of the mosaic is to send a united message that the world believes China's current ban on tiger trade is absolutely necessary for the future of tigers in the wild." The mosaic campaign was launched as China considers lifting its ban on trade in tiger skins and other body parts, a move that would be disastrous for wild tigers since an increase in poaching would immediately follow. Show your support of tigers and upload your photo now.


Give a World of Life to Mom
Believe it or not, Mother's Day is only three weeks away! On May 13, show mom how much you appreciate all she's done for you with a symbolic animal adoption. It's the perfect present for all the moms in your life, including your grandmother, sister and daughter. With an adoption of $50 or $100, your mother will receive a soft plush version of the adopted animal shipped in WWF's exclusive Mother's Day bag, plus an adoption certificate, a color photo and a species fact sheet--all shipped free via priority mail. With 40 different species, you're sure to find an animal that mom loves.


EXPEDITIONS




© Lindblad Expeditions

Kayaking the Islands of the Pacific Northwest
Aboard the Sea Bird
September 18 - 24, 2007
Experience the pristine waters of the Pacific Northwest on this new, ship-based kayaking adventure. Sail from Vancouver to Seattle and explore the region's vast network of channels and inlets, searching for cormorants, seals, bald eagles, sea lions and orcas. Kayak from the ship, traveling at your own pace and desired distance. For more information about this expedition, including a brochure, email membertoursnl@wwfus.org or visit our website.