WWF Credit Cards from Chase
Chase (formerly Bank One) offers WWF Visa cards in three endangered species designs. Chase will contribute $50 for each new WWF account opened and activated online, and $2 for other new accounts. Each time you use your WWF credit card to make a purchase, WWF receives 1 percent of the sale. Since 1995, WWF has received more than $10 million from Chase's animal credit cards, helping fund our mission of protecting the future of nature.
---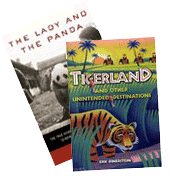 WWF Books
The WWF online bookstore features a selection of books written by WWF staff, books funded by WWF, and books recommended by our experts on various topics related to our conservation work. WWF receives between 4 and 8 percent of any purchase on Amazon.com originating from this website.




CONSERVATION RESULTS




? WWF-Canon/Alain Compost

New Species Declared on Borneo and Sumatra
Scientists have discovered that the clouded leopard found on the islands of Borneo and Sumatra is an entirely new species of cat. The secretive rain forest animal was originally thought to be the same species as the one found in mainland Southeast Asia. "Who said a leopard can never change its spots? For over a hundred years we have been looking at this animal and never realized it was unique," said Carter S. Roberts, president and CEO of WWF. The new species is generally darker than the mainland clouded leopard and has small cloud markings with many distinct spots within them, grayer fur, and a double dorsal stripe. "The fact that Borneo's top predator is now considered a separate species further emphasizes the importance of conserving the Heart of Borneo," added Roberts. The islands of Borneo and Sumatra harbor some of the world's richest and most diverse rain forests, and are home to thousands of unique plant and animal species, including the last remaining Sumatran tigers, orangutans, pygmy elephants and Sumatran rhinos. Between 5,000 and 11,000 clouded leopards are estimated to live on Borneo. The total number in Sumatra could be in the range of 3,000 to 7,000. The region suffers from some of the worst deforestation ever, threatening these species' habitats and prompting WWF to select Borneo and Sumatra as one of 19 Priority Places worldwide that must be conserved before 2015.





? WWF-Canon/Elizabeth Kemf

Going Nowhere Fast: Top Rivers Dying
The world's rivers are drying out, threatening severe water shortages. Poor planning and inadequate protection of natural areas mean we can no longer assume that water will flow forever. WWF's latest report, World's Top 10 Rivers at Risk, released ahead of this Thursday's World Water Day, lists ten rivers that are fast dying as a result of climate change, pollution and dams. "All the rivers in the report symbolize the freshwater crisis, signalled for years, but the alarm is falling on deaf ears," says Jamie Pittock, director of WWF's Global Freshwater Programme. "Like the climate change crisis, which now has the attention of business and government, we want leaders to take notice of the emergency facing freshwater now not later." Five of the ten rivers listed in the report are in Asia: Yangtze, Mekong, Salween, Ganges and Indus. Europe's Danube, the Americas' La Plata and Rio Grande/Rio Bravo, Africa's Nile-Lake Victoria, and Australia's Murray-Darling also made the list. WWF's Conservation Science Program is devoting increasing effort to freshwater projects at the global, continental, ecoregional and landscape levels to protect these and other rivers for future generations.


TAKE ACTION

Time for Change
WWF is working to protect the future of nature this Earth Day with the Time for Change campaign, and your personal commitments and fundraising pledges have been pouring in. In the 50 days leading up to Earth Day 2007 we're challenging YOU to make change. Tell us how you're making change by posting your personal commitment for the world to see. Or, make change--literally--by being one of the first 5,000 people to pledge to raise $50 or more: We'll send you a FREE fundraising kit containing a recyclable globe bank, an Earth Day poster and other fundraising materials. Be sure to enter the Coin Count Challenge for a chance to win a trip to Churchill, Manitoba to see polar bears up close in their natural environment! It's Time for Change, and we're counting on you to help us make change this Earth Day.





? WWF/Tom Lalley

Expedition Diary: Cambodia
Take a virtual journey off the beaten path with Dekila Chungyalpa, WWF priority leader for the Mekong program. Dekila's expedition diary focuses on Cambodia, one of the countries in the Greater Mekong region where a large number of WWF's conservation efforts are focused. The Greater Mekong is made up of three ecoregions which span China, Laos PDR, Thailand, Cambodia and Vietnam. It is filled with incredible endemic biodiversity, from the Mekong giant catfish, the largest freshwater fish in the world, to the douc langur, possibly the most charismatic primate in the world. Discover the country that Dekila describes as filled with "an intoxicating combination of history and modernity, chaos and serenity, starvation and generosity, and destitution and rich heritage." Read the expedition diary now!


EXPEDITIONS




? Asia Transpacific Journeys

Micronesia Snorkeling
October 27 - November 10, 2007
Snorkel the crystalline waters of the islands of Pohnpei and Palau. See brillant coral reefs teeming with over 1,500 varieties of fish, explore hidden caves and lakes, snorkel among millions of stingless jellyfish, and visit magnificent archeological ruins. For more information about this expedition, including a brochure, email membertoursnl@wwfus.org or visit our website.



DO YOU KNOW?
Which of the following correctly lists three longest rivers in the world in order from longest to shortest?


a. Nile, Amazon, Yangtze


b. Amazon, Nile, Yangtze


c. Nile, Yangtze, Amazon


d. Amazon, Yangtze, Nile Question submitted by Mariam G., Berkeley, CA
Have a great question? Email it to us!