It's so heartbreaking--and it's a crisis. Wildlife trafficking is one of the most serious threats facing wildlife! But together, we can help stop it.

Below, I describe a daring rhino rescue you would have been amazed--and proud--to see. Supported by generous WWF members like you, we used helicopters, powerful steel cables--and a whole lot of care--to airlift rhinos to safety!






Anti-poaching staff display a tiger skin

You see, the problem is this: last year we saw more armed gangs killing wildlife--not just rhinos. More criminal networks trafficking animals and body parts--such as elephant tusks and tiger skins. And more threats than ever before to some of the world's most threatened and endangered wildlife.

If we let the poachers and traffickers have their way, I believe some of the world's most endangered wildlife could go extinct in the wild... even in our lifetimes.

Will you help me take action today? Please make your most urgent and generous donation to WWF to support our global conservation efforts, including our critical anti-trafficking campaigns.




Please help get 2012, and all our anti-trafficking efforts, off to a great start by making your most generous donation today.

Shocking Increase in Rhino Poaching and Trafficking

The illegal killing of rhinos for their horns threatens the world's remaining rhinos. Last year 333 rhinos were poached in South Africa. This year it will be more than 400. Three of the remaining five species of rhino are critically endangered--one illegally killed rhino is unacceptable!


Black rhinoceros after de-horning

WWF is leading the charge to stop the killing and save rhinos. Last year we helped airlift 19 rhinos to safety, and relocated over 100 more. But we're afraid the crime networks will stop at nothing, and time could be running out.

Please contribute generously to WWF to support our work to protect animals and preserve their habitats. Our work is urgent and needs your help.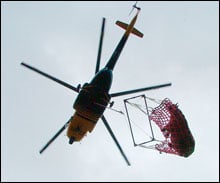 Operation Rhino Drop

One step in conserving rhinos is stopping poachers. Another is moving rhinos to where they can be protected. But how do you move a rhino? You can't put it in a jeep. An adult male black rhino can weigh well over 3,000 pounds!

So together with our South African partners, we did something pretty amazing. Using specially made leg harnesses and heavy duty cables, we hoisted and airlifted 19 rhinos to a new home with better protections.

So far WWF has helped move 120 rhinos to new homes in seven reserves. We're also:
Improving security monitoring to protect rhinos from poaching;

Implanting microchips in rhinos' horns, so that if they are killed we can use those chips to track the traffickers down; and

Increasing local and international law enforcement to stop the flow of rhino horn and other illegal wildlife trade items from Africa to other regions of the world; as well as other efforts.
The threats to rhinos remain very real and extremely urgent. But if we can continue and expand our efforts, through increased funding, then I believe there is hope for rhinos, as well as other species now facing poaching and trafficking threats.

Donate to WWF and support our conservation efforts like stopping wildlife traffickers!
It Isn't Only Rhinos that Need Your Help

Elephants are being killed for their ivory. Tigers are being killed for their skins, bones and organs. Live birds are being stolen from the Amazon and sold by bird dealers here in the U.S.

As a WWF member, you support the efforts of one of the most effective conservation organizations working in the world today.

In addition to our incredible work with rhinos, we're also working to conserve tigers; last year's population census in India showed an increase in the number of wild tigers!

I want 2012 to be the best year: a year when caring friends like you support our efforts and provide the funding to expand our successful efforts!

Your gift can help fund investigations into wildlife trafficking and new tools to help law enforcement while also making sure governments of the world take this crisis seriously and act right now.

I am counting on your most generous donation to support our global conservation efforts and help stop the bloody killing. Thank you.

Your choice of a FREE
thank-you gift!




When you make a donation of at least the recommended amount, you can choose one of three gifts. Show the world your commitment to conservation and choose a set of three tote bags, a cooler bag and tote set, or a tiger bag and water bottle set. Whichever gift you choose, thank you for helping WWF protect animals and preserve their habitats.




Sincerely,
Crawford Allan
Director, TRAFFIC North America


P.S. The future for rhinos and other species is on the line. How far will you go to stop the traffickers? Make your most generous donation today, and choose a FREE WWF conservation thank-you gift for your donation of at least the recommended amount. In closing, let me personally thank you for your concern, for your commitment--and for your contribution.

* All contributions support WWF's global conservation efforts.
Photo credits: Black rhinoceros © Martin Harvey/WWF-Canon; anti-poaching staff displaying a tiger skin, one of the poached items on display at the Tikauli Museum, Nepal © Jeff Foott/WWF-Canon; black rhinoceros after de-horning © Michel Gunther/WWF-Canon; black rhinoceros removed by helicopter to be transported to the boma, Hluhluwe-Umfolozi Park, KwaZulu-Natal © WWF/Ezemvelo KZN Wildlife