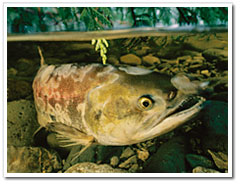 Bristol Bay's marine ecosystems support the
largest sockeye salmon run in the world.
© Joel Sartore/National Geographic
Stock/WWF-Canada
America's Fish Basket Threatened

Bristol Bay, Alaska, produces almost half of the wild-caught seafood eaten in the United States. It's an economic engine, but it's in trouble--the bay is a prime target for offshore oil and gas drilling and it's threatened by climate change and mining. The bay's fishing industry creates more than 12,000 jobs for fishermen and processors in Alaska, as well as other people nationwide. The annual value of Bristol Bay's fisheries is almost $5.4 billion dollars, according to a recent WWF study. Check out the study and read about "America's Fish Basket."

| | |
| --- | --- |
| In Depth: Bristol Bay, Alaska | |
---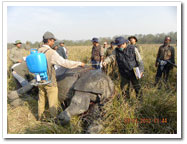 WWF has helped to complete many
successful rhino translocations, including
this one on January 8, 2012. © IRV 2020
A Glimmer of Hope for Asian Rhinos

Those who care about greater one-horned rhinos in the Eastern Himalayas have reason to celebrate: Not a single rhino was poached in Nepal last year. Thanks to the work of WWF and our partners, we've seen several recent successes for this threatened species. Find out what happened when a female rhino presumed lost from Manas National Park in India led conservationists, park staff and security personnel on a weeks-long chase in November. Get all the details and see photos.
January Caption Contest

Enter the WWF Photo Caption Contest, and your creative caption could be featured in next month's e-newsletter.
"Give me my coffee and no one gets hurt!"

Alexandra R., Bradford, Ont.
December's Contest Winner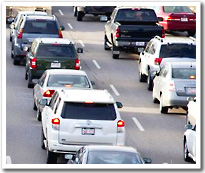 Tell the Obama administration to enact stronger fuel efficiency standards.
© Michael Buckley/WWF-Canada
Support More Fuel-Efficient Vehicles
in the U.S.

The Obama administration recently took a major step forward for the environment by proposing to nearly double the fuel economy of passenger cars to 54.5 miles per gallon by 2025. This change would help curb the carbon pollution that fuels climate change, a fundamental and urgent threat to the vulnerable places, species and people WWF seeks to protect. This is a great opportunity for concerned Americans--like you--who care about wildlife to let the president know that he's doing the right thing by promoting fuel efficiency and reducing pollution.
---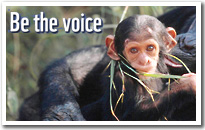 Be the voice for those who have no voice.
© Martin Harvey/WWF-Canon
"Be the Voice" Daily Actions

Saving the world doesn't have to be a daunting job. Small actions can add up, giving everyone the power to change the world--including you! WWF's Be the Voice actions provide new ways to help you speak up for those who have no voice, reduce your footprint and raise awareness on the importance of conservation. Visit our take action page to find a new action each day!
FEATURED VIDEOS
FEATURED EXPEDITION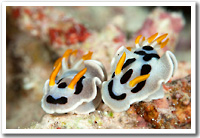 Two nudibranchs in the waters
surrounding Misool Island.
© Jürgen Freund/WWF-Canon
Misool Snorkeling Adventure
October 8 - 21, 2012

Just announced! We're taking WWF travelers for the first time to the most far-flung and seldom-visited islands in Indonesia's Raja Ampat Archipelago. Travel aboard a traditional wooden live-aboard boat and snorkel at enticing locales with names like "the Candy Store" and "Kaleidoscope." Search for a surreal variety of marine life, including gorgonian sea fans, pygmy seahorses, mimic octopuses and mandarin fish. Learn more.
---
FEATURED SPECIES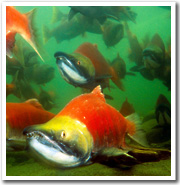 Sockeye salmon
© Michel Roggo/WWF-Canon
Pacific Salmon
(Oncorhynchus salmonidae)


Status: Endangered



Basics: Five species thrive in the North Pacific waters of the U.S. and Canada: chinook (king), coho, pink, sockeye and chum salmon.



Threats: Illegal and unregulated harvesting, habitat destruction, dams and river blockages, climate change



Interesting Fact: They begin their lives in freshwater and migrate to sea as small fish, called smolts. They grow into adults in the North Pacific Ocean. Then a biological clock tells the salmon when it's time to return to their birthplace to spawn a new generation.

Celebrate Valentine's Day with WWF

Make this Valentine's Day extra special for the ones you love by sharing your passion for wildlife with them. Here are three easy ideas that are sure to warm their hearts:




Bank of America Is Supporting WWF





Show your love of the tiger with the WWF Visa Signature® credit card from Bank of America. Bank of America will contribute $100 to WWF for each new qualifying account.
Get more details.

This Week's Reason for Hope

YOU.

View Reason #50
---
Saputo Supports WWF in 2012
Frigo® Cheese Heads®, a Saputo Cheese USA brand, is donating $85,000 to WWF in connection with select flavors of their Frigo® Cheese Heads String Cheese between January 1, 2012 and May 31, 2012. Select packages feature a special icon noting Saputo's support of WWF, as well as inner string cheese wrappers that highlight interesting marine species facts for kids. For more information, visit FrigoCheeseHeads.com/dolphin.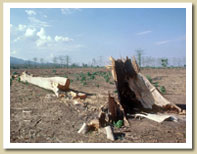 More than half of Sumatra's natural forests--home to orangutans, rhinos and critically endangered tigers--have been lost since 1985.
© Paul Forster/WWF-Canon

DO YOU KNOW?

One reason for the deforestation in Sumatra is clearing and conversion for pulp and paper products, like toilet paper, for the U.S. market and elsewhere. How many millions of tons of paper did North Americans consume in 2009?

a.
45 million tons

b.
80 million tons

c.
100 million tons

d.
125 million tons
Click on one of the answers above to see if you know.
CONNECT WITH WWF