Snow Leopard Coming to Build-A-Bear Workshop?
On August 12, Build-A-Bear Workshop? stores across the country will introduce the latest stuffed toy animal in a series that benefits WWF, Snow Leopard. This endangered species - native to Central and South Asia - is facing a series of threats in the wild. WWF receives $1 from every animal sold.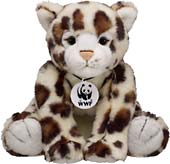 WWF Wildlife Checks
Message!Products produces and distributes the WWF check series, featuring images of endangered and threatened species. These checks are printed on recycled paper using soy-based inks. In addition, WWF address labels, message cards, mousepads, and checkbook covers support WWF, which receives a minimum of 10 percent of the purchase price.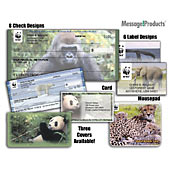 CONSERVATION RESULTS




? WWF-Canon / Martin HARVEY

WWF Tiger Study Finds Habitat Shrinking
WWF collaborated with other organizations on the most comprehensive scientific study of tiger habitats ever done. The study finds that tigers reside in 40 percent less habitat than they were thought to a decade ago. But large-scale conservation efforts have largely succeeded in some areas, raising hopes that similar efforts could be replicated. WWF continues to establish protected areas and is working to reduce - and ultimately, eliminate - the trade in tiger parts and products.





? WWF-Canon / Michel GUNTHER

WWF Works with Fishermen to Eliminate Wasteful Bycatch Hundreds of thousands of marine turtles die annually as unwanted bycatch, the incidental capture of "non-target species." Caught in the nets, hooks, and lines of the world's fisheries, bycatch is the single most important threat to these ancient mariners. Moreover, hundreds of thousands of dolphins, small whales, and seabirds die each year from entanglement in fishing nets, making bycatch their largest cause of mortality and pushing several species to the verge of extinction. In the largest marine conservation project ever in the Eastern Tropical Pacific, WWF and its partners are working with with fishermen, exporters, and fisheries agencies to test and promote new equipment and best fishing practices to reduce the bycatch.


TAKE ACTION




? WWF-Canon / Cat HOLLOWAY

Oppose a Damaging Oceans Bill
Our planet's oceans are in trouble and the plant and animal life they sustain are being threatened. Overfishing, marine habitat destruction, coastal development, global warming, and pollution are pushing our ocean ecosystems to the brink of collapse. WWF uses market incentives to promote responsible fishing and works with government and other conservation partners to advance policies that will sustain the vital and diverse wildlife and habitats that constitute the ocean's web of life. Ask Congress to help WWF's efforts by reauthorizing and strengthening the Magnuson-Stevens Fishery Conservation and Management Act, the primary law governing fishing in U.S. ocean waters.





? WWF-Canon / Martin HARVEY

Explore Wild Places and Species with WWF's WildFinder
Taking a trip this summer? Whether you are exploring wildlife on a safari in Tanzania or simply camping out in your backyard, WWF's WildFinder helps you discover the many species that live there. The most extensive database ever developed, WildFinder is a map-driven, searchable database of more than 26,000 species worldwide, including birds, mammals, reptiles, and amphibians. WildFinder is a great resource for students, educators, travelers, birdwatchers and nature enthusiasts alike. Find the species that are in your travel destination or enter your zip code to see what's in your backyard!