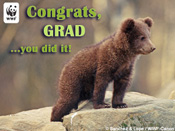 School is almost out for the summer! Send your graduates a free WWF e-card to congratulate them and wish them luck!


Bank of America

Support WWF just by using your WWF Visa Signature® credit card with WorldPoints® rewards from Bank of America. Bank of America will contribute $100 to WWF for each new qualifying World Wildlife Fund Visa® credit card account. Then, each time you use your WWF credit card to make a purchase, WWF will receive a contribution. There's no annual fee
†
and you can select from one of three animal images--polar bear, panda or tiger. Click here for more information. For every $100 in net retail purchases that you make with this card, Bank of America will contribute $0.25 to WWF.
†
For information about rates, fees, other costs and benefits associated with the use of this credit card, or to apply, click on the link above and refer to the disclosures accompanying the online credit application. This credit card program is issued and administered by FIA Card Services, N.A.

Calculate Your Carbon

Every day, you produce greenhouse gases, which are measured in units of carbon dioxide. Your "carbon footprint" is the impact your activities have on the world's climate--do you know what yours is? Check out WWF's new carbon calculator to find out.

Wallpaper of the Month

As China's economy continues to rapidly develop, this bamboo-eating bear faces a number of threats. That's why WWF has been active in panda conservation since 1980. Download free panda wallpaper to show your support!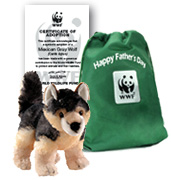 Adopt for Dad

Thank your father for always being by your side by symbolically adopting a gray wolf--or any other species! With your donation of $50 or $100, you can send your special thank you gift in a "Happy Father's Day" gift bag. Choose from over 90 species for adoption and help support WWF's programs around the world.




A giant panda in Wolong Nature Reserve, an area of the Sichuan Province hit hard by the earthquake.
© Fritz Polking/WWF

A Year of Green Recovery in China's Panda Country



One year ago this week an earthquake devastated southwest China's Sichuan Province. WWF's response to the disaster was immediate, working with first-responders in affected areas to meet urgent human needs. And, as soon as conditions allowed, WWF and our partners undertook a comprehensive survey of the damaged giant panda habitat in Sichuan. More than 40 rangers and researchers trekked through steep mountain slopes and dense forest trails, braving possible aftershocks and landslides. The team found signs of live pandas, but confirmed that there was widespread damage to their habitat. Find out how WWF has been active in this region over the past year, helping people and pandas.





2007 Grand Prize Winner:
"The Eliminator"
© Photo courtesy of University of Rhode Island

Simple, Powerful Change



Designed to inspire innovative ideas for environmentally friendly fishing gear, WWF has launched the fourth International Smart Gear Competition! The search is on for new designs for fishing devices that reduce bycatch, real-world fishing solutions that allow fishermen to fish "smarter" by better targeting their intended catch while safeguarding the dolphins, sea turtles and other marine life often caught unintentionally. Think you have the next $30,000 idea? Learn more about the competition and the challenge of bycatch.




Gray whale
© Steve Morello/WWF-US

Help Save the
Western Gray Whale

The western gray whale is on the verge of disappearing. Thought to be extinct in the 1970s, a small number--around 130--are now known to survive. Unfortunately, the western gray whale's main feeding habitat, located near the Russian Far East's Sakhalin Island, is now under threat from the oil and gas industry. Find out how you can help give a voice to these majestic creatures.




Forest in Sumatra, Indonesia
© Mauri Rautkari/WWF-Canon

Wild Things Podcast: Stories from the Front Lines of Conservation



Ever wonder what a melting iceberg sounds like to a fish? What about how Buddhist monks ordain the trees inside a Southeast Asian "spirit forest"? Check out WWF's new podcast page and find the answers to these puzzlers and more. Listen in as WWF visiting journalist John Nielsen--whose work you might know from his 19 years at NPR--interviews WWF experts working on conservation projects around the world.



| | |
| --- | --- |
| | |


Getting up close to marine life
© Rick Thomson

Belize for Families


December 26, 2009 -
January 3, 2010

Spend the winter holidays in warm, lush Belize--an ideal place to introduce children to the importance of conservation. Go hiking in the highlands, and look for ancient Maya artifacts while cave canoeing. Visit the massive ruins and rain forest reserve at Tikal, in neighboring Guatemala. And snorkel at the Mesoamerican Reef, the longest reef system in the Western Hemisphere and a place WWF considers a priority to protect. Learn more.





Do You Know?



The Coral Triangle is the world's richest marine environment, spanning the six countries of Indonesia, the Philippines, Malaysia, Papua New Guinea, the Solomon Islands and Timor Leste. What percent of the world's coral reefs are found here?


A featherstar in the Indo-Pacific Ocean
© Jürgen Freund/WWF-Canon

a. 8%


b. 15%


c. 25%


d. 30%



Click on one of the answers above to see if you know.