Dear Friend of WWF,
I'm pleased to share with you that WWF has recently launched an urgent new TV campaign to make people aware of how climate change is affecting polar bears and other animals. Polar bears are at risk of extinction due to melting and thinning arctic ice, and could disappear by the end of this century if we don't take action.
Because you care so much about the diversity of life, we wanted you to see this critically important ad, too! Actor and WWF supporter Noah Wyle generously donated his time to record this important message about polar bears at risk. Press the arrow below to watch this two-minute video right now.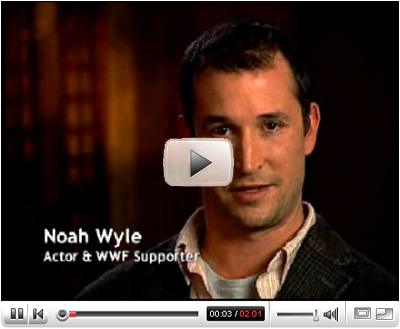 Now that you've seen this powerful message, please take action to help save polar bears and other endangered wildlife and wild places. Start by visiting WWF's new website created specifically to support this campaign. Here you can learn more about polar bears and other threatened species and their habitats and the many ways WWF is working to protect them.
You can also forward this message to a friend, to help increase awareness about the risk of extinction polar bears and other endangered animals and places are facing.
There's one more way you can help, and that's by joining WWF's Wildlife Rescue Team today. Wildlife Rescue Team members pledge a monthly gift to help fund WWF's most urgent conservation projects. As a member, you'll help provide the stable funding that is so critical to protecting polar bears, orangutans, elephants and many other majestic species.
You'll also get a FREE t-shirt with your first monthly gift of $16!
At WWF we're leading the fight to save the polar bear, but funding is critical - and there isn't much time. Your support of $16 or more per month will help us address the urgent issues of climate change and habitat preservation for the polar bear and many other animals. Make the commitment to saving wildlife today.

It isn't enough to care about the diversity and abundance of life on Earth. We must take action to save animals and natural areas, and your help is needed now. Thank you.
Sincerely,
Terry Macko
Vice President, Membership
P.S. One very effective way to help save wildlife is by becoming a member of WWF's Wildlife Rescue Team today. Get a FREE t-shirt when you join today! You can also learn more about the many ways WWF is working to save the polar bear and other animals, when you visit the new website created exclusively to support this urgent campaign. Thank you.